If you want to boost your SEO but don't want to spend big bucks on tons of fancy, overwhelming & expensive SEO tools, I have GREAT news.
In this post, I've rounded up more than 30 SEO tools that can help you get started with SEO for FREE! (Many of them are a freemium model, meaning you can get limited access without paying a cent.)
1. Google Search Engine Results Page (SERP)
The best place to start with getting ideas for Google? Google itself! The Search Engine Results Page (us Google nerds call it SERP, because of course we have to turn everything into an acronym 🙄)
Head to Google, type in the topic that you're thinking about then …
don't hit enter yet! instead, allow the autocomplete box to pop up with some ideas of things that could complete that query: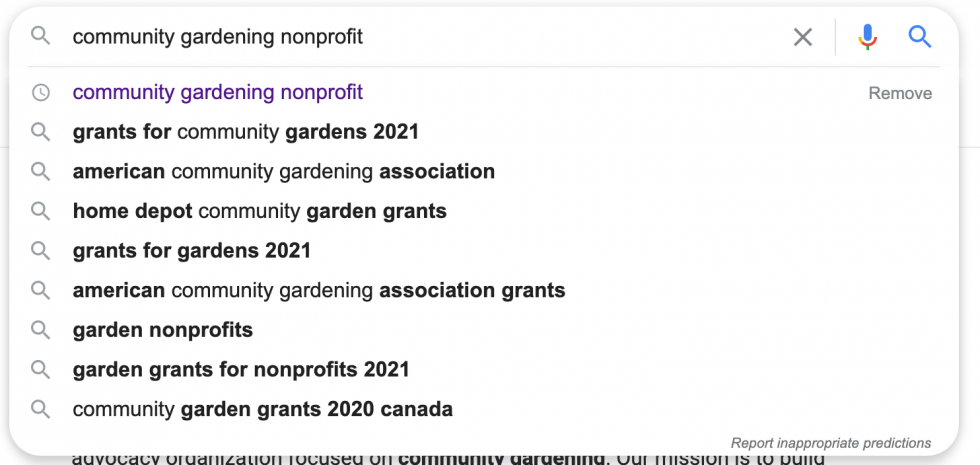 Choose a favorite, then click Enter and scroll down a bit to find the section labeled "People Also Ask":
Want even more ideas? Scroll to the bottom of the search results page (right before the bar to click to page 2) to find the related searches: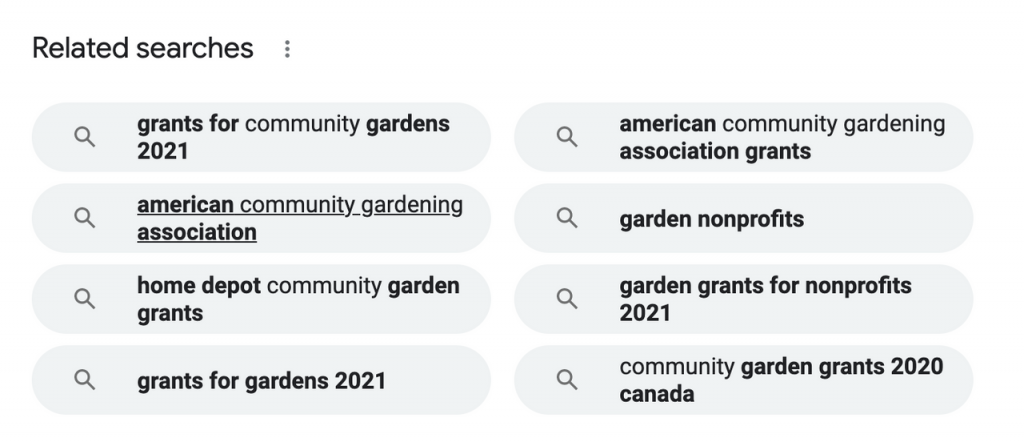 Bonus: You can gather this information more easily using tools #4 & 5, and can get search data right on your Search Engine Results Page using tool #7 or 8.
2. Google Search Console
If all these tools were on Batman's utility belt, Google Search Console would be the Batarangs (aka, the iconic weapon that he relies on the most)
Google Search Console is a treasure trove of valuable information you can use to improve your website speed, find anything broken, track your traffic performance, and find new content ideas.
Read more:
3. Google Trends
Plenty of tools can spit out keyword phrases … but can they also tell you where each of those phrases is possible and how searches have changed over the past 18 years?! I didn't think so.
Google Trends will compare search terms against each other over time … like this comparison of ale (green), ipa (blue), stout (red), and lager (yellow) in the US over the past 5 years. Wow, I had no idea that ales were so popular!
It'll also share with you where each particular search term happens most frequently (Californians, Oregonians & Vermonters like IPAs, Wisconsin loves stout, everyone else is ale):
As well as sharing rising & popular search terms for specific, related queries (which may or may not be related to the actual product … FYI the novel Lager Queen of Minnesota is excellent!):
Read my full overview here: Google Trends: My Favorite Free Tool to Find Timely Keywords
4. Google Keyword Planner
I don't talk about Google Keyword Planner that often, because honestly? It's kind of a pain in the ass to access, and it doesn't give as much detail as many of the other keyword research tools I share here. But it's still worth including in the round-up, because it IS free, and it's straight from Google so you know the data is (mostly) accurate.
To use Google Keyword Planner, you have to create a Google Ads account and pretend to set up a campaign … but you don't ever have to START the campaign to use the planning tools.
Head to the Tools & Settings menu, then click Planning > Keyword Planner:
From here you can choose "Discover New Keywords" to brainstorm ideas and learn what's working for your competitors, or click "Get search volume & forecasts" to know approximate monthly search volume & competition of a list of keywords you've already got & want to test.
My favorite way to use the Discover New Keywords tool is for competitor research. I find a website in search results, then take a sneak peak under the hood to see what their keywords are. Here's what I can see for the site ahrefs (but I also filtered out the term ahrefs because I don't want people looking for tutorials for that specific tool, more the general idea of what people would be looking for):
5. Answer the Public
Remember in #1 when I said that you could bulk review data from the Search engine results pages (SERPs)? These are the tools for the job!
Answer the Public pulls info from the Google autocomplete data, then sorts it into questions and propositions. Here's the search for "garden" in the UK:
Obviously it's not perfect (like it thinks "hoegaarten beer" is a question about how to garden) and not all the queries will be useful (if you're writing about gardening, you probably won't cover whether garden birds can eat rice), but if you stay generic with your initial search & sort through the fluff, there can be some good gems in there.
6. People Also Ask
The People Also Ask took has a similar approach of scraping SERPs and aggregating the info, but instead of pulling the autocomplete answers, they review the "people also ask" section of the SERP.
The cool thing about the People Also Ask on the SERP is that it will add new questions based on the one you choose … so this tool has the initial questions that are on the page in bold, then the follow-up questions below it.
Because these search terms aren't limited to phrases that include the exact thing you typed in, they can cover a wider range of related ideas, including terms that don't even include what you typed in! So for an initial search of "garden" the first level of question included "how can I landscape my garden cheaply" and the follow-up question is "what can I use instead of grass in my backyard?" Still definitely related to the intention of the topic, but willing to explore outside that one word to come up with ideas.
7. UberSuggest
Ubersuggest gives you more free SEO information in one place than nearly any other keyword research tool out there. It's full of domain information, top landing page reports, keyword suggestions, competitor research, backlink data, and more!
Ubersuggest can be low-cost because it was acquired by Neil Patel, the founder of Crazy Egg & HelloBar, and he mostly uses it as a lead gen tool to sell his SEO courses …
Heads up: there's a pretty well known rumor in the marketing space that Neil Patel steals content, so while it's fine for you to use the tool, I'm gonna encourage you to only use the free version and not contribute to this type of unethical marketing.
8. LSI Graph
You have your target keyword figured out, but feel like you're just repeating the same phrase over & over again? Or feel like you haven't hit the word count you wanted on a post and need to figure out how to make it just a little bit longer?
LSIGraph taps into Latent Semantic Indexing (aka conceptually related terms that may or may not include the same phrases) that creates a web of keywords that usually show up together, and are often included in similar content.
Best Chrome extensions
8. Keywords Everywhere
My love for Keywords Everywhere is well documented (check out my full review & tutorial of Keywords Everywhere). Although I have paid subscriptions to multiple keyword research tools, I still find myself regularly using Keywords Everywhere because, well, the keywords are everywhere — not just Google, but also Google Trends, Google Search Console, Answer the Public, Amazon, YouTube, and more.
If you use the free version, it will share information on your SERP page about trend data, related keywords, and even suggest some long-tail keywords:
There's also an incredibly cheap paid version, that's literally $10/YEAR for 100,000 searches. That's like a penny for every 1000 search terms you look up I have students who exclusively use this tool and still can't hit that $10 limit in a year … so I'm gonna count it among the free list because it's so incredibly cheap that it's almost criminal. (It used to be free but people abused it, so they had to put a cap on it so they wouldn't have to shut it down.)
If you update to that almost-free version, then it will also add details right on your SERP about monthly search volume, cost-per-click, competition and monthly trends:
9. Keyword Surfer
I use Surfer SEO for content optimization for my long-term clients, and I was so thrilled when they came out with a free plug-in to share search volume on the SERPs.
Unlike Keywords Everywhere, Keyword Surfer's plugin doesn't give you trends or PPC data, and it only works on Google (not on the other sites that Keywords Everywhere does, like Search Console, YouTube, Amazon, etc) …
But it does give you correlation charts for information about the pages that are ranking in these top search results, like how many words are in them and how much traffic they get:
This info can help you decide whether it's worth it to pursue writing this, and if so, how long your blog post would have to be to be competitive on this topic.
10. Ahrefs SEO Toolbar
Getting tired of the Google SERP? I don't blame you.
Wish you could pull info directly from your competitors websites? Hell yeah you do!
Ahrefs SEO Toolbar will display on-page SEO details, SERP position, link highlighters, backlinks data and more.
11. Moz Bar
I struggled with whether to include this here under the extensions or in the backlinks sections, but the MozBar extension ended up here because the benefit of it is the ease of quickly pulling data as you're browsing the web, not just the data that's included.
A free Moz.com is required, and you'll get totally different information than our other extensions: instead of keywords metrics, this extension is focused on domain authority. Here's what it looks like:
and in addition to showing up on the SERP, the same info can also be displayed along the top of on any website you visit around the internet, and will also display all their on-page content tags (like their SEO title, meta description, headings, etc)
And the free version of the plugin will also highlight all links on the page, as well as letting you know if they're follow/no-follow or internal/external (blue is external, yellow is internal):
If link-building is a key part of your SEO Strategy, the MozBar is an incredible free resource.
Best Free Technical SEO Tools
12. Screaming Frog SEO Spider
If you want bulk information about any website — content tags or technical errors — there's nothing better than Screaming Frog. This isn't a website, but a downloadable tool that will crawl through any website, display relevant content tags and meta data, and let you know about any errors.
We use this to find broken links, too-long or too-short page titles or meta descriptions, and find any unexpected redirects.
13. Google Mobile-friendliness Test
Since Google looks at the mobile version of your website before the desktop version, you need to make sure that it looks great on tablets and cell phones.
Enter (yet another amazing resource from Google!): Google Mobile Friendly Test.
Type in your URL & it'll let you know how your site looks on mobile (including a screenshot of the specific page you're requesting … nice view of my legs from here, eh?):
And also, even if your site does pass the test, it'll let you know if there's anything that could. be better (along the top where it says "page loading errors":
On a WordPress site these are often plugin settings that are intentionally blocked, so you don't have to worry about them.
14. Siteliner
Duplicate content is a major issue for SEO. If you have the same information on 3 pages on your site. How does Google know which of those pages should show up in the search results? Usually it just goes with the page that was published first, which may be the one that you want, but maybe not.
The best tool to make sure you don't have the same phrases on multiple pages on your website is Siteliner. It'll scan through your website to figure out how many times you say the same thing, and let you know exactly where you can find those passages:
("Common content" is text from places like your menus, headers, footers, etc that show up on all pages as part of your layout, and therefore don't count.)
I have different variations of the same sales pages, so this is a good reminder to me that I should noindex the versions of the pages that I don't want Google to send traffic to (like my birthday flash sale page, that was only relevant for a week!).
15. Copyscape
This gets even more confusing when there's duplicate content on different websites. If you post the same blog to multiple sites, not only does Google know which website should get the traffic … it also doesn't know if you intended to post the same thing on multiple sites or if somebody stole your content and is passing it off as their own. Not cool, internet.
If you're worried that somebody is plagiarizing your work, you need Copyscape. It'll scan your website, look around the internet, and see if anybody has a large amount of similar copy on their sites:
In my case, the only thing that got flagged was my course library on MemberVault, which makes sense since I wrote it … so looks like I'm ok!
16-18. Pingdom/GT Metrix/PageSpeed Insights
I'm cheating a bit by lumping these 3 tools together, but that's because they have very similar insights but with different levels of details and interfaces.
If you want to get your website to load faster—which is a HUGE factor in both SEO & user experience!—these tools will help you figure out what you can do to improve your page speed.
Pingdom's Speed Test is my favorite of the bunch, because I think that it's the easiest to read the results; the scorecards are easy to understand at a glance and the explanations are simple enough to understand without deep Googling:
GTMetrix's report goes into more detail about how you stack up and its explanations are more detailed:
As an SEO specialist, I love that GT Metrix includes specific load times for Google's Core Web Vitals … but I also acknowledge that the amount of info in this report can be overwhelming AF if you're not familiar with the jargon.
And lastly, Google PageSpeed Insights is great because you know you're getting information straight from Google, and it gives you a simple score from 1-100:
… but sadly I find that their descriptions of how they came to the conclusion and things that you can change are among the most complex explanations around, and to decode them you really need help from a developer to improve your score.
19. NitroPack
Page speed is always something that I struggled with … but as you can see from my screenshots above, I finally cracked the code in order to get my website to load quickly! My secret is the NitroPack plugin. It's free for up to 50,000 pageviews/month, and within a week of installing this on my site, my pagespeed scores jumped from a C to an A.
Free Backlinks Tools
Link building is a HUGE part of SEO — the quantity & quality of inbound links is the way that Google gauges how much authority your domain has.
20. Ahrefs website authority checker &/or Moz Link explorer
A good way to get your bearings about how your site's Domain Authority (DA) is doing is to put it through authority checker. A domain that was just purchased yesterday would have a DA of zero; credible sites like Wikipedia or IMDB or CNN would have a DA of 100.
Check your own DA using either Moz Link Explorer tool or ahrefs Website Authority Checker, and maybe a few of your competitors, to see how you stack up. (Note: You can also get this same number from tool #12, the Moz Bar).
21. HARO
Want to get more links quickly? Sign up for daily digest emails from Help A Reporter Out (HARO), a free way to get access to journalists & bloggers who are looking for credible sources for upcoming articles.
Three times a day, HARO sends an email with 40-60 opportunities from writers looking to include quotes from experts in their fields & case studies from real people, on everything from student loan forgiveness to holiday gift guides, parenting experts to fountain pen maintenance. (Why yes, I did just open the most recent digest to come up with those examples.)
22. Hunter
If you know the site that you want to pitch but you don't know the email address to reach the right person, you can use Hunter.io (on the site or Chrome extension) and it will crawl through that website to find any listing of an email address that would be useful for your outreach.
23. Dead Link Checker
Another key part of link strategy is making sure that the links on your site are clean — in other words, visitors clicking anywhere on your site won't get a dreaded 404 error, either internally within your site or on other sites that you're linking to.
Dead Link Free Broken Link Checking Tool will check every link on your site to tell you exactly which links on your website are broken, so you can clean them up. Think of it like sweeping up the cobwebs of your website!
Best free SEO WordPress Plugins
24. Yoast SEO
Yoast is maybe the most famous free SEO tool — I mean, SEO is pretty much synonymous with "getting green lights" thanks to the prevalence of this plugin on WordPress sites!
But Yoast is so much more than just traffic signals; it can also help you create a sitemap to submit to Google, set up your sitewite SEO defaults, bulk update your SEO titles and meta descriptions and more.
Check out my entire Yoast SEO Plugin tutorial & review for all the details about installing the plugins, setting it up & optimizing every page, post, project & product on your site!
25. Rank Math
Sure, Yoast is cool … but have you heard of Rank Math?
As far as WordPress SEO plugins go, Yoast might be the most popular, but I believe that Rank Math is the best tool for the best price (free for almost everyone!)
Read my full review of the Rank Math SEO plugin.
26. Image Compression
Giant image file size can be a huge hindrance in slowing down your page speed load time, which can deeply impact your SEO. So how can you make your images still look great, but also not take forever to load? Compress them!
I've tried plenty of image compression plugins (like Smush, EWWW, Robin & TinyPNG), and while they are able to decrease file size by 10-20%, they don't get the results that will majorly impact your SEO.
So my favorite tool for image compression is Squoosh. You need to download the file, compress it, then re-upload it, but the time it worth it for the page speed boost you'll get.
Check out my full image compression tutorial.
Free Local SEO Tools
27. Google My Business
If you're running a local business, there's nothing better than Google My Business to show up in Maps, collect reviews, see local insights and share any updates about your business directly with Google.
Here's my tutorial to set up a free Google My Business profile in about 5 minutes, then they'll call you or send you a postcard to confirm your address.
Note: You need to have an actual physical address—not a PO Box—to set up an account, but you don't need to display that address. My GMB listing just has my town and county, so nobody can come creeping my home office:
Google My Business is super important for local SEO because it gives you:
Quick access to crucial information: Potential customers can learn about your business – contact details, business hours, website URL, products categories, etc — and even contact you without needing to click through to your website. My GMB sidebar even has a link to book a call with me!
Consistent information: It provides the same content across all Google platforms — the same bio + contact info will show up on Google Search, Maps, Reviews, etc.
Search insights: You'll get important data about how many people are finding you and checking out your business info directly on Google
28. BrightLocal Search Results Checker
For online businesses, it's easy to know how our results look on Search Engine results. But for local businesses, it's more complex, because we don't know what local results look like from different locations.
That's where the Local Search Results Checker comes in. You can replicate a local search without needing to travel, so if I'm in Los Angeles but want to know what Google Maps or Google search results would look like in Miami, I could see them:
29. Local SEO Checklist
Most SEO tips (including my SEO Checklist) are for online businesses, not local ones — and the rules are different when you're targeting a specific geographic range! That's why when I'm working with local clients, I double check my efforts using the Local SEO Checklist (because honestly, keeping track of all of those directory listings can be tough otherwise!)
The Local SEO Checklist has 30 tasks to boost your local SEO, from on-page optimization, creating your GMB listing and installing Analytics, claiming directory listings, building citations, collecting customer reviews, and building quality backlinks.
Best SEO Analytics tools
30. Google Analytics
There's a reason Google Analytics is the gold standard of analytics tools: because it's super powerful, integrates well with most other tools, and (best part) it's totally free!
Check out this tutorial for installing Google Analytics and my quick guide for understanding your website metrics.
31. Google Data Studio
I know I just said Google Analytics can track tons & integrate well … but sometimes it can suck to have to check your Google Analytics in one window, Search Console in another tab, Google Ads data in another tab … honestly, having the information consolidated into one place would make things much easier.
And that's exactly what Google Data Studio does! It can pull info together from 19 different Google properties (and 300+ partner connectors) so that you can see all your Google tracking data in one place. And it's all visualizations, so you don't have to dig through messy spreadsheets anymore — if you want your info as a scorecard, line graph or pie chart, Google Data Studio can make it easy to review all your data in one place:
I'll be consistently adding to this list as new tools come across my path.
Want help getting started with SEO? Download the free SEO Starter Kit 👇🏼