"I found you on Google" is one of the most satisfying sentences for a business owner, because it means not only that somebody was looking for what you're offering, but also that Google understands that you're a great fit for that topic and shared a link to your site with that searcher.
We also need to ask the obvious follow-up question: "What were you searching for?"
So whether people are telling you that they're finding you on Google or you just see your organic search traffic start to rise, there's a good (and free!) place to discover what search terms they're looking for when your name pops up: Google Search Console.
Watch this LIVE tutorial!
What is Google Search Console?
According to Google: "Google Search Console is a free service that helps you monitor and maintain your site's presence in Google Search results."
It used to be that your website's successful search terms would show up right in your Google Analytics dashboard, but as they added more robust functionality to the search data, Google decided to split out that information into a separate space: Google Search Console.
How do I install Google Search Console?
The easiest way is to connect it directly to your Google Analytics account. If you haven't installed that yet, here's a tutorial to get Google Analytics up & running.
First things first … log into your Google Analytics account and click on the gear in the lower left hand corner; then in the second column click: Property Settings.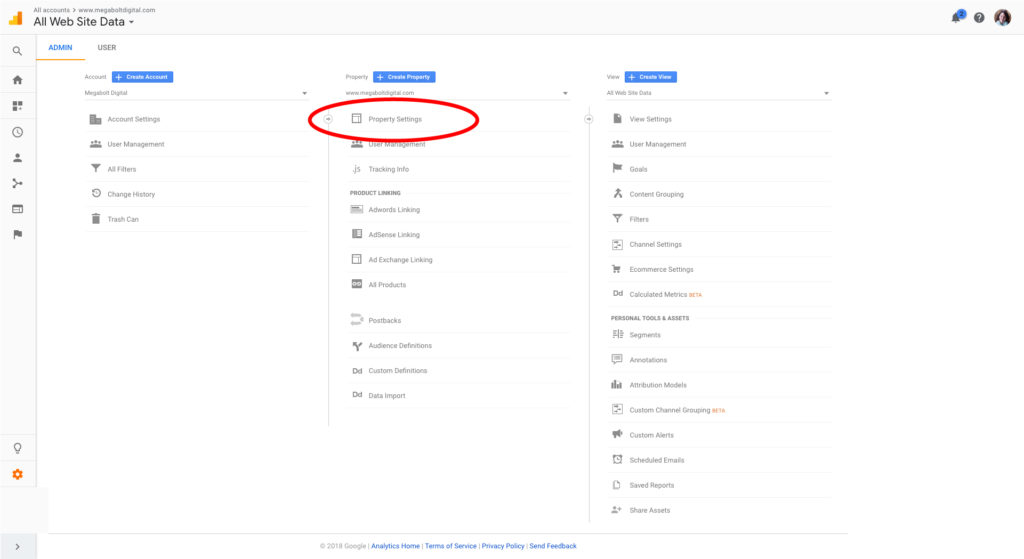 Then scroll about 3/4 down the page until you see "Search Console" and click: Adjust Search Console Settings.


Once you're on the Search Console Settings, next to the word "none," click: Add.


This will open up the Search Console Screen. At the top of the page, click: Add a Property and type in your website's name.
(NOTE: Copy & paste this directly how it shows up in the browser, because GSC is really particular about whether the site is https:// or https://, and whether it has the www. before your domain name or not!)


Once you've entered your domain name EXACTLY as it appears in the browser, it will ask you to verify. If you've come to Search Console the way I've recommended, and you have "edit" permissions in your Google Analytics, you should be able to just click "VERIFY" and be all set!

If that doesn't work right away, that's ok. It means either your tracking code isn't where Google expects it, or you don't have the right permissions. Click the tab for "Alternate methods" and try one of those to get yourself all set up.
---
Want more trainings like this?
Join the SEO Action Heroes private facebook group to learn the basics of SEO in a comfortable, non-judgmental community of women entrepreneurs.